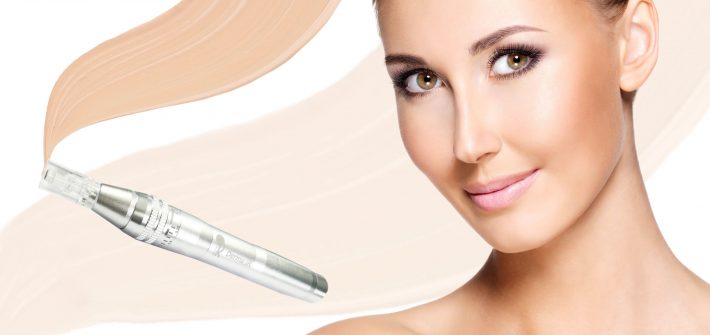 The dermapen is considered a real mesotherapy, this instrument contains a multitude of my microneedles. These ultra-thin needles perform a multitude of micropunctions in the skin to produce collagen and elastin.
Dermapen is known as mesotherapy because it helps penetrate the active ingredients into the skin to achieve a complete, optimal and effective treatment.
Among its advantages and benefits, it highlights its power to correct and blur wrinkles and expression lines, in addition to concealing and improving the marks produced by acne, chickenpox, etc.
It is indicated for all skin types, even for the most sensitive. It can be used in especially thin and sensitive areas such as the eye and lip contour and for the eyelids.
To notice lasting results over time, a minimum of three sessions is necessary, although to achieve remarkable results, five or six sessions are recommended.
The results are not immediate, since a reasonable time is needed for the skin to regenerate and thus see the effects.
Today we are going to tell you about the lip dermapen. Thanks to the penetration of the active ingredients with the dermapen, in this case we use the active pure hyaluronic acid to get thicker, more hydrated and juicy lips.
Here we leave you with a video of how we work in our center:
It has no side effects. After the treatment you will notice a redness in the next 24-48 hours that is completely normal, and it is because the natural mechanisms of skin repair are activated. Patients for whom Dermapen is not recommended are: pregnant or breastfeeding women, people taking aspirin or blood thinners, patients with skin tumors.
It is a very requested treatment since we avoid infiltrations with a Doctor and we can work it in the same way without having to use the injections 🙂
We encourage you to try it because you will love it!